Does anyone know who this is?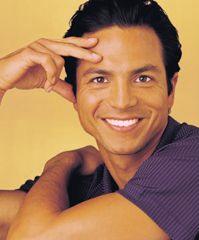 Well if you do or don't, you really need to check out his performance in the movie....
La Mission
starring Benjamin Bratt(pictured above) directed by his brother Peter Bratt.
I really enjoyed this movie. I have family that lives in North Hollywood, California and the scenery really reminds me of them even though this film takes place in San Francisco. It speaks a lot about our culture and where we are as people. One of the lines promoting the film is: When a culture defines YOU the hardest thing to discover is who YOU are. What is this movie about? It is the story of a father and son relationship that finds itself at a crossroad. The film has already won numerous awards. I recommend that you NOT Google it or watch a trailer but just go rent it at your local red box or watch it on Netflix. I personally don't enjoy previews of movies because they give most of the movie away but hey that is just me. Whatever works for you but DEFINITELY watch it. Benjamin Bratt gives a wonderful performance.
Here is Brad and his brother Peter (the Director)
You won't be disappointed. After you watch it, message me and let me know what you thought.
Stay Brown!